Successful Applications of EFT for Fertility and Birthing Issues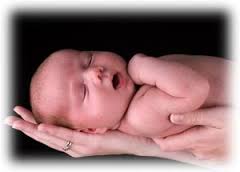 Years ago I was approached by my first client who presented with fertility and birthing issues. Since then I've successfully supported a number of young women to not only conceive, but to easily give birth to the "loves of their lives". This was all done naturally using Energy Therapy and EFT non-invasive tools to support the emotional component that might have been the underlying cause for the hormone imbalance, debilitating fear, and general inability to easily produce an offspring. In the words of a happy new mother:
"It is with pleasure that I write to you with an update on my life since you facilitated my coaching/healing session. In just one valuable, impressionable, healing session with you I was able to let go of much fear and anxiety about pregnancy, birthing and the responsibilities of becoming a parent. Your professionalism came across to me as kind and caring. I was able to trust you from the beginning. First of all you helped me to identify the fears and anxieties that gave me a sense of being paralyzed and out of control with my life. Secondly, after identifying my issues, you gave me the insight, tools and suggestions to embrace and deal with the wall of uncertainty and fear that I had created. I am so thankful to you, Anne, for helping me through this new life adventure." — Hope D./ Columbia, SC
The body is programmed to be healthy and to reproduce. When it is unable to get pregnant or when there are complications, there may be a number of reasons. Here are just a few comments that I have heard from my past clients – all reflecting emotional blocks to allowing the body to behave naturally in the areas of fertility and birthing: *
• "I was sexually abused as a young person and I have lots of stress around having sex with my husband.
• I had cervical cancer at a young age and that area of my body brings back bad memories and fear.
• I aborted a pregnancy in the past and still feel some anguish about that.
• My last pregnancy was miscarried, and I'm afraid it will happen again.
• My partner is very large and love-making/ intercourse really hurts/ is uncomfortable.
• I feel upset when my husband asks for sex when I don't feel like it, and I close down.
• I used to be attracted to my husband, but now that I know he doesn't take good care of his body hygiene, I am not attracted to him as much.
• Sometimes my husband's gruff attitude scares me and then I shut down and cannot consider intimacy with him.
• My mother had difficult pregnancies and I expect much the same… and that scares me.
• The idea of losing my nice figure seems disgusting to me.
• My husband wants a child more than I do, and I'm afraid to discuss it with him.
• I want a child more than my husband does, and I'm afraid to discuss it with him.
• I've had physical pain whenever I think about making love with my husband… and sometimes he thinks this is just an excuse, which makes him upset.
• I've got a physical condition that causes pain whenever I make love with my husband. I feel so bad for him because he is concerned for me.
• I'm getting pressure from my in-laws to start a family immediately, and I don't feel ready for that!
• My sister just had a baby and I want to get pregnant quickly so that our children can be playmates of the same age!
• With our busy work schedules, there doesn't seem to be time or energy to "make babies" any more.
• I've never been pregnant before… and I'm scared of what it will be like.
• I want children but I'm not sure I'll be a good mother.
• I have weight issues and my periods are not regular… and I only want to get pregnant when I know my body is in balance.
• I'm not sure I'll have enough energy to be a good mother, wife, employee, housekeeper, etc. in my busy life!
• I'm the "breadwinner" in my household… and I'm not sure I can earn the money and still get pregnant and be a good mother.
• I don't trust my husband because he was abused as a child… will he be an abuser to our future children?"
• … and many more.
Here is a quote from another past client who worked through a number of the issues from the list. Our work together helped her to clear deep fear left over from previous health issues, guilt about a past abortion, and chronic excruciating physical pain that had cost over $50,000 in doctor's fees to no avail. After just two sessions the pain abated and she was able to conceive and had a healthy pregnancy. She had found clarity, peace of mind, balance, and happiness using non-invasive energy therapy approaches.
"Once upon a time I thought if I had a child I would be tired, broke and not be able to share my passion through my career. Blunt, but true. (Issues about life priorities, values, questions about being a mother, wife, career girl, etc.)  And then I got pregnant and the fear set in big time. (Same as above, plus changing body, energy & hormone shifts, time management, general stress…)
And then I had my baby boy…… (Major life changes… for the good!)  And my life blew up with an enormous deep sense of love that like other parents say, 'you just can't imagine it until you have one'. I am most grateful for this little being that has only added to my life. NOTHING has become less because of him, yet only more vivid, real, fun and worth living for… and my career has blown up proportionately."
I feel blessed to be able to facilitate and share this powerful work!
* If you relate to any of the above issues, you may use meridian tapping or EFT/ Emotional Freedom Techniques to tap as you focus on your feelings around the issue. Either use the full protocol or just tap on the meridian point on the side of your hand – the "karate chop" point – until you feel a shift in your feelings . For more information go to: https://annemerkel.com/free-eft-stuff/ .