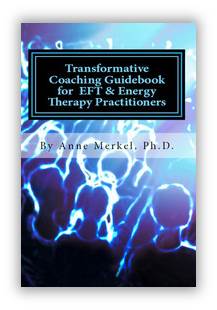 TRANSFORMATIVE COACHING GUIDEBOOK For EFT & ENERGY THERAPY PRACTITIONERS: Creating a Practice Curriculum to Support Your Clients to Thrive!
Welcome to the world of Transformative Coaching. This type of coaching goes way deeper than traditional Personal Life, Success, or Business Coaching because we are injecting energy therapy into the ratio… and that changes everything! Watch your clients quickly transmute as their vibrations change, and use this guide to provide support for them to re-create their lives.
I presume that if you are reading this you are a Health & Wellness Practitioner of some kind and have some level of background using energy therapy modalities in your practice with clients or patients. Congratulations! You realize that your main practice modalities "take" better when all emotional and energetic blocks are cleared.
My purpose in sharing this 280-page Coaching Curriculum Guidebook is to provide you with a coaching foundation or curriculum that you can use with clients or patients whenever you apply the energy therapy components of your practice.
You may have a new EFT Tapping practice or have been trained as a body practitioner, so you don't have exercises or experience to support your work with energy therapy clients. This book will give you all of the guidance you need to firmly root your practice and allow it to grow as you attract and retain satisfied clients.
With certifications as both a Personal Success & Wellness and Business Success Coach, I have worked with corporations and individuals from over 120 countries worldwide to support clients in all aspects of business and personal health, wellness, and success. I am committed to helping you support your own clients in the same way.
 Click here  to purchase on Amazon.