NET Wellness Check – Online Questionnaire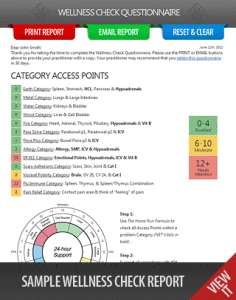 As an experienced NET/ Neuro Emotional Technique Practitioner I am privileged to be able to use the NET Wellness Check instrument which tells me what is going on in the energy system of the body as it corresponds to the NET treatment protocol. This helps me to immediately discern the body's own priority order of how it would like its issues to be addressed. (The client's priority is not always the same as that of the body, and unless you follow what the body prefers, you may need to go back later and re-correct for the client's original desire.)
I invite you to try the Wellness Check and Consult for yourself by following these easy steps:
Sign up here for your Health & Wellness Consult (Free now for a limited time) to discuss your health, personal balance, and receive natural health management suggestions.
Schedule your personal consult with me to hold your phone date.
Click over the photo above or go here to access the Wellness Check.
Fill in  your answers on the online Wellness Check questionnaire – use a computer rather than other device,
Finish the Wellness Check and hit SUBMIT to get your results,
Ask for your own results and also request that they be sent to me at –

[email protected]

.
Call me at our scheduled meeting time and we will go over your results and discuss your body's priority of which meridians need to be addressed and what might be the cause of your imbalance.
When you register more details will be provided to you, and if you need to schedule at a time other than those offered, feel free to contact me for an alternate time.