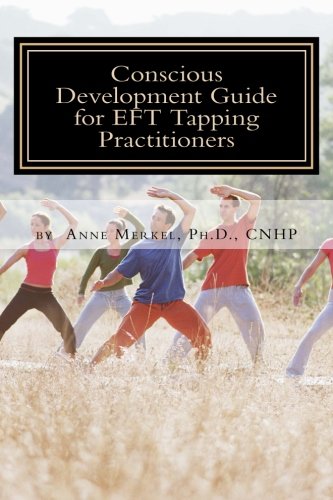 CONSCIOUS DEVELOPMENT GUIDE For EFT TAPPING PRACTITIONERS:   Energy Therapy Exercises to Improve Your Practice and Your Life!
This book reflects my rich academic and training background in its ability to guide the reader from idea to end result. It presents easy-to-use exercises for your Conscious Development, based on Energy Therapy combined with Traditional planning and development approaches for life or business.
Use this tool as a guide to move forward in your life and your practice as you also learn exercises that you can personalize and share with your clients.
The text works hand-in-hand with my Certified Energy Therapy Practitioner Program. As you use it you may focus on your own life first as you work through the exercises here. And you will see that your professional life and practice automatically fit into some of the categories as outgrowths of your full life vision.
The progression of processes and focus on clarifying the Vision, then creating a Plan with Priorities, and finally bringing it forth through Journaling seems simple, and yet it is profoundly life-changing.
The exercises found in this book are natural and allow for you to show up as your authentic SELF. You may have come across similar exercises and techniques in the past, however this is NOW and the way these tools are organized will gently bring forth from your innermost SELF the true Vision, Purpose, Plan, and Steps to move you and your practice past blocks or inner resistance that have held you back in the past.
Great for both new and seasoned EFT Tapping or Energy Therapy Practitioners! This 170-page book can be your life-changer!
Click here  to purchase on Amazon.